10 Ways to Convert Leads for Your SaaS Business Through Email Marketing
Email marketing is as old as the internet. Over the last 20 years, it has evolved and became a go-to digital marketing strategy for businesses across many verticals. Approximately 50% of marketers in the US are planning to increase their spending on email marketing. One of the reasons is that it delivers.
For SaaS businesses, email marketing can easily become the number one digital marketing channel when it comes to generating and nurturing leads and boosting conversion rates.
But to effectively use email to capture more sales, you need to know what you are doing. To help you out, we have put together a list of 10 ways to convert leads for your SaaS business through email marketing.
1. Connect and Reconnect
Email marketing can help you build long-lasting relationships with your customers. You can use it to connect with the new ones and reconnect with old contacts. The most fundamental rule in the textbook is to stay away from generic emails. 
Have you ever heard about email sequencing? Every email has an introduction, a value proposition, an offer that can be captured in an engaging CTA, and follow-ups. Experimenting with email sequencing formulas and discovering which one works best for connecting with new clients and reconnecting with old ones is the best way to go.
Here is one great example of how it's properly done. The company tested dozens of different onboarding emails with new customers. The practice was fruitful as the company managed to identify the key sentences that helped them build a relationship with customers and improve the product roadmap at the same time. 
You may also want to read: Digital Trends to Grow Your SaaS Business in 2021
2. Categorize Your Prospects
It is essential to understand that prospects in your sales funnel are a dynamic concept. What does this mean? Not all prospects are the same. They are in different phases of the purchase decision process. All of them have unique needs, goals, preferences, and desires. Some may be more price-sensitive; others might be more interested in your customer support. 
This brings us back to generic emails. They simply won't work. You need to be able to categorize your prospects based on their location in the sales funnel. This is why most SaaS companies utilize CRM systems. With the help of CRM, you can identify the phase a prospect is in, thus making prospect categorization significantly easier. 
Once you categorize your prospects, you can easily segment emails. There are plenty of success stories you can check where companies managed to boost opening rates by a whopping 9% by segmenting emails.
3. Create Impactful CTA
CTA stands for Call to Action. In email marketing, CTA can be literally anything. It can range from a graphic and image to a button and inline copy. What is an impactful CTA? Precisely what you'd guess. It is the CTA that delivers the highest click-through rates. It is very hard to nail the best CTA on your first try. There is nothing much else to do but to experiment.
You can test different CTAs within an email segment and monitor the click-through rates closely. If you lack inspiration, you can check out other people's ideas; there are plenty out there!. Once you manage to create an impactful CTA, continue to monitor CTRs. After some time, you might need to update it to boost the CTR back up again.
You may also want to read: How To Use Video Email Marketing To Increase Your Open Rates
4. Engage Consistently
Engaging leads via emails is not that hard once you know their position in the sales funnels. The trick is to send emails relevant to the last engagement a lead had with your services or brand in general. To engage leads, you need to serve them with content that resonates with their current interests and answers their current questions.
This is where your content strategy comes in. It would be best to have content ready for every email segment. Here are some of the examples:
Activation email – a brief reminder for users that notifies them about the benefits of using your service
Welcome email – this email should help users get started with the basics of your service 
Pro tips and guide emails – these emails can help experienced customers see your product in action and how it can help them optimize their workflow and deliver better results
You can use other techniques to engage your potential customers and convert them. Upgrade emails, for instance, provide several opportunities to engage leads that subbed for the trial. 
5. Opt For Email Automation
Email marketing is a lot of work. We are talking about a scope of work that is beyond what you should try to do manually. Many of the leads will be interested in your product for a brief time. However, if you miss the time window to send an email, you will lose them. Not to mention that manual email campaigns can be flawed and full of errors.
This is where automation comes in. Almost 50% of businesses use some form of email automation. Thanks to automation, you will be able to send bulk emails. Also, marketing automation solutions can be integrated with CRM solutions to help you target your leads and segment emails hands-free. 
You may also want to read: Essential B2B Email Marketing Strategies To Generate More Leads
6. Measure Email Effectiveness
How do you know exactly how many leads on your website are there because of your email marketing campaign? Email marketing is not that cheap, and if you don't track its performance, you may be easily throwing your cash down the drain. As in every other marketing, there are KPIs that you can track the moment you launch your email marketing strategy.
The most important KPIs to track include:
Deliverability – a metric that tells you the percentage of emails of your sent emails that reach customers
Open rate – a percentage of emails that get opened
Click-through rate – a percentage of people that click on a CTA
Unsubscribes – the number of people who unsubscribe from your email list
7. Maintain a Personal Touch
Personalization is a perfect way to get your foot through the door. Yes, it will take up some of your most valuable resource – time. However, it will send a strong message to your leads that you are willing to put the effort to establish meaningful communication with them. For the conversation to be meaningful, the email has to contain at least some information explicitly tailored to your leads.
As an entry point, you can use the line that indicates that you are aware of the last contact your lead had with your brand. You can also talk about specific problems your leads are experiencing and offer a solution.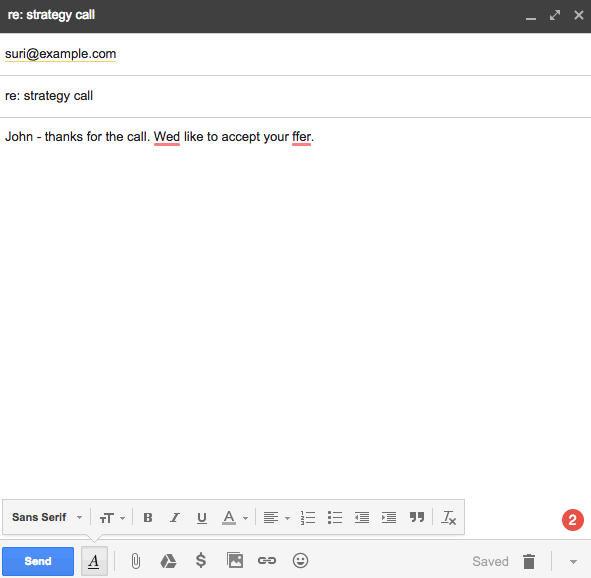 A great example that comes to mind is Grammarly's weekly report email that even users that use Grammarly for free receive. Email marketing played a vital role in Grammarly's growth over the years, finally becoming a SaaS company that has 30 million active users.
You may also want to read: 4 Reasons Small Business Should Consider Mass Email
8. Use a Multi-Channel Approach
To get the best results from any marketing strategy, you have to consider diversifying your approach. What does this mean exactly? Since you are running a SaaS business, your focus is predominantly on digital marketing. Email marketing is just one of the strategies that you can pursue to generate and capture more leads.
To improve the efficiency of your marketing effort, try to combine various channels. For instance, besides email marketing campaigns, you should focus on SEO, social media marketing, content marketing, and PPC. Simply put, email marketing should just be one of the cogs in your digital marketing machine. All the tips we disclosed so far still apply.
9. Launch a Compelling Campaign
Email marketing can truly deliver if you spend some time collecting data and planning a data-driven compelling campaign. The leads are already there. You just have to create a net with your content and cast the line with an email as bait. Everything that you talk about in your emails should be anchored in facts that leads can easily check out.
Vero is one of the SaaS companies that managed to boost SaaS email conversions by 450% thanks to a compelling campaign. To do this, marketing experts at Vero devised an effective campaign and tested it by sending bulk emails. They fine-tuned the email and finally managed to move leads from the start of the sales funnel tool to the end. 
You may also want to read: 5 Email Strategies that Will Increase Your Business Sales
10. Provide Relevant Testimonials
You shouldn't neglect the fact that more than 70% of consumers say positive testimonials and reviews increase their trust in a business. Spice your emails with testimonials to build trust with your leads and make it easier for them to make a purchasing decision.
To do it, the testimonials you send should be relevant to your services but also resonate with the problems your leads are experiencing. Your existing customers can make the best case for you. To boost conversions, all you have to do is connect potential customers with current users.
It's a Wrap
Email marketing offers valuable opportunities that SaaS businesses can pursue and accelerate their growth. As you can see, there are plenty of ways to leverage email marketing to convert leads for your SaaS business. Spice up your emails with personalization, segmentation, and powerful CTAs, and watch those KPIs as they paint your success story.
Sign Up For Our Mailing List
If you'd like to receive more in-depth articles, videos, and Infographics in your inbox, please sign up below. We'll also keep you abreast of our upcoming soup-to-nuts blogging class.
Sign up for the newest articles from Curatti, delivered straight to your inbox
Featured image: Copyright: 'https://www.123rf.com/profile_melpomen' / 123RF Stock Photo
The following two tabs change content below.
Robin is a Technical Support Executive. He is an expert in knowledge management and various Knowledge base tools. Currently, he is a resident knowledge management expert at ProProfs. In his free time, Robin enjoys reading and traveling
Latest posts by Robin Singh (see all)