How to Map Out a Winning Content Marketing Strategy for Your Business
Your business should not only stand out from the rest online, but also that you become a thought leader in your industry. By writing new content each week we are creating new opportunities – and, that requires articles which are original and engaging.
What's the first step for creating highly visible information that will make people want to come back for more?
At the core of a business blog is an original idea that reflects the mission statement of your brand. In order to be successful, content must be remarkable and promote sharing and comments online and on social media. One of the best examples of original articles that draw attention is Jeff Bullas, who creates a consistent variety of helpful topics in marketing: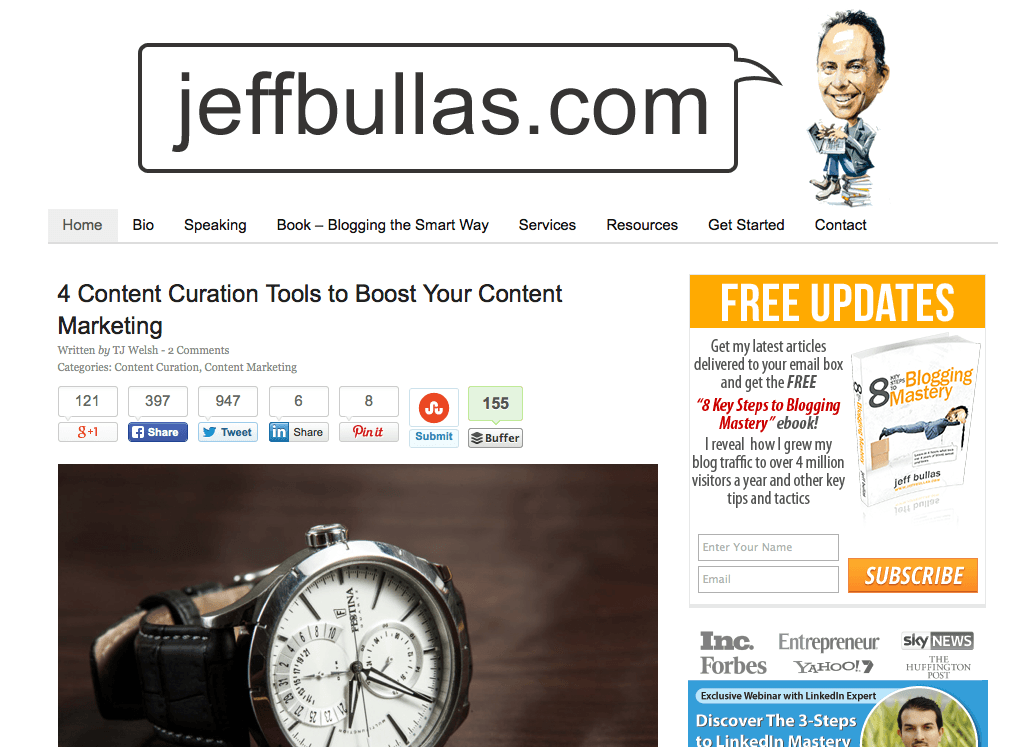 This is a great example of writing content that meets the needs of your target market, answers their questions, and offers tips and tools they can use.
When writing your business articles there is no quick and easy way to put these together if you want to project quality. The image you want to put out there is that of an expert in your niche who truly knows their market. In order to attract other influencers and more followers your content needs to be memorable.
Here are several questions to ask when mapping out a winning blogging strategy:
• Is your information consistent with your brand's message?
• How original are your articles? Are they asking and answering questions not covered?
• Does you audience find your content helpful and does it create an opportunity to provide more?
• Are you mixing up your content to keep it fresh, interesting, and appealing?
Your business can have a similar message to your competitors, but the key is to develop something that is unique to your brand that people will recall easily. Consider hiring a freelance content marketer from places like oDesk or Fiverr if you need a jump start in this process.
Once you have researched your topics and have a strong writing foundation take a look at what others in your niche are posting on their blogs. Keep in mind what is working or not for the readers and pay attention to their comments. This can help you create new content based on what they are talking about. And when the opportunity arises contribute to these websites in order to open the doors for guest blogging opportunities.
What makes content shareable?
Once your articles get to a level of high expertise with an established audience influencers in your niche will take notice and will want to share what you are publishing online. Great content helps build the reputation of your business and for others in your industry. Equally important is writing articles that are easy to understand with a clear and solid headline that shows what your writing about.
Search engine spiders are also crawling websites and bringing original content into their results. Writing with an organic flow is the key to success, in which you want to create a variety of themed words that comes out of your main keyword. It's good practice to use tools like Copyscape to check your work against any plagiarism or duplicate content.
When you begin a content marketing campaign or would like to step up your game teamwork will help your influence and ideas grow. By working with professionals and interacting with influencers in your niche your business will get a head start on your strategy. Remember that nice is better than controversial, and to give credit where it is due.
This article was originally published on susangilbert.com and titled "Content Marketing Basics for Better Visibility". It is republished here with permission.
The following two tabs change content below.
Online Marketing with Focus - Let Susan Guide you to Online Success. Especially loves to help Authors, Speakers, Coaches & Entrepreneurs.
Susan Gilbert
uses her laser focus knowledge to coach and provide online marketing and social sharing programs. Author and publisher of several books including "The Land of I Can," and "KLOUT SCORE: Social Media Influence," Susan combines online marketing with strategic thinking. Follow her Digital Marketing Tips at her blog:
www.SusanGilbert.com
Latest posts by Susan Gilbert (see all)