Generate More Interest in Your Business with These Social Selling Tips
Social Selling Strategies
Are you getting all the sales you want from social media?
Do you wish your followers showed more interest in your products or services?
Social selling is not an exact formula for sales, but instead an end result from strong interactions with your business or brand's community. As word-of-mouth becomes the new norm online, it's important to know how to reach your prospects and customers in a way that will get their attention and meet their needs.  That's the strategy that will create more sales.
The Problem and the Benefit
In the midst of powerful social networks like Facebook, Twitter, Google Plus, Instagram, and YouTube the consumer has the edge on promoting a company or not. Public response is very quick, which can directly impact your business sales – up or down. Just take a look at this recent example from Best Buy, which prompted a public apology on Twitter after referencing a popular murder podcast called, Serial. The negative public response was overwhelming: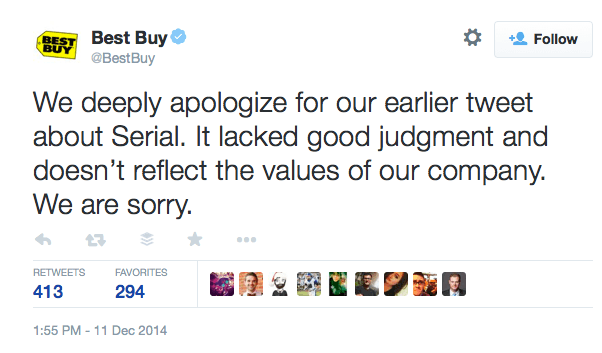 It's important to be relatable and non-controversial while maintaining open communication with your connections. Content should be at the top of your marketing strategy list along with a few other steps that will help your business or brand attract more leads and sales:
Create a sales page
Take advantage of services like LeadPages, or create your own landing page on your website where your social media fans and followers can learn more about what your company has to offer. Use these links in between other content that you share to avoid "selling" directly to your community.
Post a steady stream of quality content
Utilize your resources and target market research to feed your followers with information they will love. This can include articles that have previously been covered, or be updated information with a new twist. You can also repurpose your posts through infographics, presentations, and videos to create a variety in your mix. Visual content is especially popular on social media, and can generate a great deal of visibility like this example from a recent SlideShare presentation I published: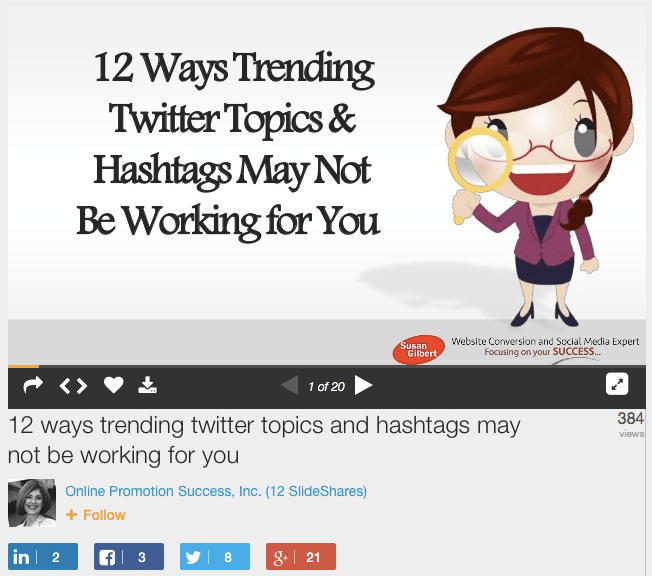 These types of images and videos are great to share on other popular networks like Pinterest, YouTube, and Google Plus, and short snippets can even be condensed to be featured on places like Vine and Instagram.
Actively participate in conversations
Be on alert for buzz around your tweets and posts on social media or join in on a conversation that could help your community. This can be done through social services like Hootsuite and Rignite, which make it easy to track your social feeds. Try to respond in a timely manner, especially when it comes to customer service issues.
Post helpful information and tips
Instead of making a sales pitch or asking your community to go to your website or join your network, draw them in with something of value instead. This can include contests, free reports, a coupon, asking their opinions, and so on. Not only will they appreciate the chance to win or participate, but will also be more inclined to share your content.
Social selling is not about the sale, but rather building trust with your fans and followers on social media who will in return reward your brand or business with word-of-mouth advertising online. People no longer respond to sales presentations until they know your company is one worth engaging with.
It's good practice to use the available analytics on places like Twitter and Facebook to track your progress and learn where your conversions are coming from. Thankfully most social networks have this capability built-in for free, and provides great insight into how your content and conversations are performing. Just remember that social media is all about people, and the sales will follow!
Originally titled "Become a Social Selling Success with These 4 Tips" and published on susangilbert.com. It is republished here with permission
The following two tabs change content below.
Online Marketing with Focus - Let Susan Guide you to Online Success. Especially loves to help Authors, Speakers, Coaches & Entrepreneurs.
Susan Gilbert
uses her laser focus knowledge to coach and provide online marketing and social sharing programs. Author and publisher of several books including "The Land of I Can," and "KLOUT SCORE: Social Media Influence," Susan combines online marketing with strategic thinking. Follow her Digital Marketing Tips at her blog:
www.SusanGilbert.com
Latest posts by Susan Gilbert (see all)