The Importance Of Smart B2B Content Marketing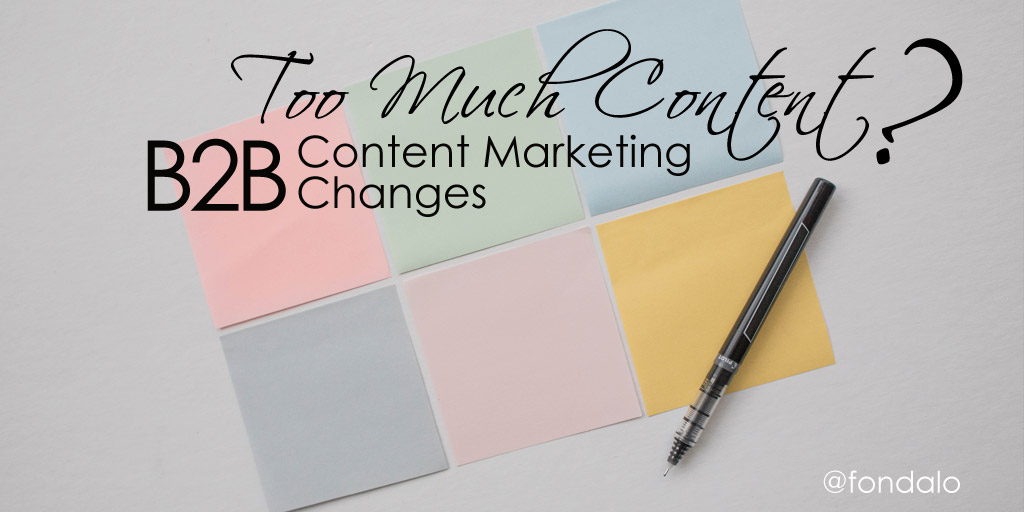 If we have heard anything over the past few years about digital marketing, it's that content marketing is extremely important. The data and research supports the importance of consistent content marketing and it's effectiveness in driving traffic, creating demand and lead generation, not to mention elevating thought leadership and web traffic.
At the same time we are hearing about the importance of creating blog, video and graphic content, we have also heard that there is too much content, resulting in too much noise. This represents a quandary for many Business to business marketers.
There are several ways that smart B2B brands can deal with the challenge of content marketing, but ignoring is not likely a good option. The majority of B2B marketers are approaching the problem by doing more. In fact a recent study shows that 76% of B2B companies say they are going to create more content over the next year. I would suggest that this is the best approach for most, but only on certain conditions.
B2B Content Marketing Statistics
B2B content marketing budgets are following closely with next years anticipated growth in content creation. Though just 4% of B2B brands are either unsure or are expecting to create less content, some 19% state they plan on maintaining their current level of content marketing. These projections are reflected in the expansion of marketing spend in that more than half of B2B marketers are allocating more dollars toward content marketing this year.
Though more investment is being focused on content marketing, it still remains a tiny portion of overall marketing budgets for most B2Bs. In fact the majority of B2B marketers are only spending one quarter or less of their budget toward content marketing.
It is my opinion that the current state of content marketing production and budget allocation represents a substantial opportunity for progressive brands to stand out. By attributing larger budget amounts, increasing content creation volumes and adjusting strategy, some B2B marketers could see incredible gains. My assertion is largely backed up by nearly 43% of B2B that say that content marketing was one of the most effective tactics for lead generation. It is time to scale that up, but how?
Dealing With B2B Content Marketing Changes
Based on the numbers and the overwhelming amount of content already being produced worldwide, brands need to make adjustments to their strategies and volumes in order to realize the benefits. However, simply creating more content isn't the answer to making your content marketing more effective in and of itself.
1 – Focus on quality: A sure-fire way of failing at content marketing in the B2B space is to create more of it that is not top-notch. Quality should be driving your expanded content plans, rather than opting for easy or inexpensive options, B2B brands should make the necessary investment in the agencies, talent and resources needed.
2 – Use Data & Targeting: It is no longer effective to use a shotgun approach in your content marketing. With so much content being created on a daily basis, you really need to understand the interests and challenges facing your target audience. This cannot be something that is led by a gut feeling or reaction, but rather driven by actual data. Know your target audience, build personas and use them. Be sure your targeting is accurate before you increase your content volumes.
3 – Ramp Up The Quantity: I have said so many times that "It is neither quantity, nor quality, but BOTH!" This goes for social media, content marketing, lists and any other aspect of digital marketing. Ramp up your content quantity only after you are confident in your revised strategy, improved targeting and quality control measures are on point.
4 – Consistency Trumps All: If you are doing all of the things we have discussed here, but are not doing it consistently, you can largely lose the benefits. If there is one thing that humans and search engines like, it is consistent, new, quality content. The more consistent you are at executing more quality content, the more traffic, engagement, leads and relationships it will inevitably create.
Content marketing and all facets of digital marketing are continuing to get more complex and integrated. B2B brands need to elevate to exist on the cutting edge of these changes if they wish to remain relevant and effective.
What are the biggest challenges facing your brand related to your content marketing efforts?
About Robert Caruso: Recognized on Forbes list of top 40 social media marketers, Robert Caruso is a social media, digital marketing and technology professional with over 20 years creating, planning and executing strategies within various industries. Robert was the co-founder of Bundlepost and holds multiple internet technology patents.
Robert writes, speaks and consults on social, relationship and digital marketing.
Originally titled "B2B Content Marketing Changes – Is There Too Much Content?" and published on fondalo.com.  Republished here with permission.
The following two tabs change content below.