Getting Started with Instagram – A Tutorial
Instagram is taking the lead when it comes to engagement on social networks. Just to be clear, I didn't just make that up, it's a statistical anomaly I learned about from Mark Schaefer in his post Why Instagram is Becoming The Dominant Social Network. Mark didn't make it up either – it's actually based on a presentation by Scott Galloway, Clinical Professor of Marketing from NYU. There's a fascinating video that you can watch here that explains how and why he feels that Instagram has even surpassed the impact of Pinterest in terms of engagement in the social media space! Wow.
Instagram Rules of Engagement
What does this all mean for you? Well the good news is that getting started with Instagram is pretty easy to do.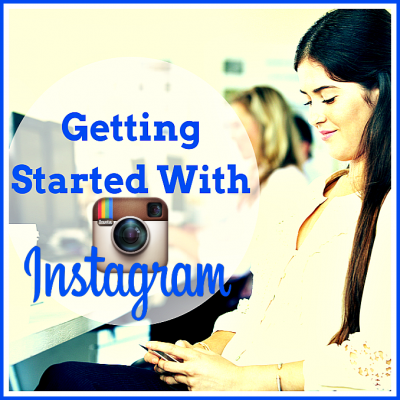 The only prerequisite is that you need to have a SmartPhone, and I'm sure most of you have one of those in your pocket or pocketbook 🙂

Next you can learn how to use Instagram by watching this short video tutorial I recorded called: Instagram Video Tutorial: Getting Started Using Instagram. Scroll down to the end of the post for a full video transcript.
Where Does This Leave Pinterest
As I mentioned, Instagram is pretty easy to use and it's not one of those networks that you need to invest a lot of time in order to get engagement. But keep in mind that Pinterest is still relevant when it comes to driving traffic and brands on Pinterest are really using it to sell products. So keep things in perspective. Also there is one major limitation of Instagram in that you can't link back to your blog in any of your posts descriptions.
My theory is that this is the reason there is so much engagement on Instagram. Liking and commenting hold more value than they do on other networks, simply because it's the only action most people can take. Where as on Pinterest, people might not "engage" with your content on the platform, yet that doesn't mean they aren't visiting your site. Check your stats and you'll see what I mean.
Additional Instagram Resources
#INSTATIP Create Custom Short Links With Bit.ly and Add Them To Your Instagram Bio So You Can Track the Number of Clicks
In this tutorial, I introduced you to the importance of using Instagram and hopefully you feel confident enough to set up your profile and get started with a hashtag strategy.
 There is one word of caution that I'd like to share. Please avoid using any auto-following or automated commenting tools on Instagram. There are a ton of horror stories out there from people who get their accounts shut down after using services like this. Instagram is very protective of their API and they don't allow these tools to integrate with their service.
Here are some resources I recommend  you check out if you want additional training:
Sue B. Zimmerman, known as The Instagram Expert created the Insta-Results Course
Jenn Herman is another Instagram pro and her blog is one rated a Top Social Media Blog for 2014 & 2015
Chalene Johnson is fun to follow on Instagram and if you like her style check out Instagram Impact Academy
I don't want you to suffer from social media overload, but at the very least I wanted to give you a quick introduction to Instagram so you can see what it's like and get started with using it. Instagram also allows you to post 15 second video clips which are even more popular and engaging than images. Keep in mind that Facebook owns Instagram so there is no telling how the platform will evolve in the coming months and years ahead.
I love to use the short clips as a teaser for my YouTube videos. See if this one gets your attention and makes you want to watch to find out more:
Video Transcript for Instagram tutorial
Hi Guys it's Ileane from Basic Blog Tips!
In today's video we're going to talk about how you can get started using Instagram. Instagram is one of the fastest-growing visual social media networks and you wanna get in before everyone else. So Let's Get Started!
First let's go over a few of the limitations of Instagram and I wanna make these things clear from the start before you start trying to compare Instagram to other social networks.
Number one is that it's really a Smartphone based application.
You can do some limited things on your desktop – which I'll show you in a minute – but primarily you should be using your mobile device to navigate Instagram. The other thing is that you have a 150 characters for your bio and you can add a link. And treasure that link, make that the best link that you can possibly come up with – You can always change it to fit the occasion – but on Instagram that's the only place you can put a link. You can't link to anything in the descriptions of any of your Instagrams.
Now that you know the limitations let's move on.
What Instagram lacks in the use a hyperlinks it makes up for in the use of HASHTAGS!! The beauty of Instagram is that you're allowed up to 30 #hashtags on any of your posts.This is really important because that's how people are going to find you – when they do searches for hashtags.
Don't be afraid to use hashtags you'll see that even the biggest brands on Instagram, for example RedBull – they post this gorgeous picture and they've got 4 hashtags right in their description. So if Red Bull can use hashtags – trust me you can do it too!
So let's find out where to get the hashtags that we need to attract people that we want on Instagram. You wanna check out a site called Tags for Likes. That's gonna show you all of the popular tags, its gonna allow you to search for tags, to see what kinda followers are using the tags that you want to use so it's important to have a hashtag strategy and Tags for Likes is a place to start.
Another site you can use to keep track of your Instagram followers and of the things that you've liked on Instagram and so forth is called IconoSquare. It will show you who's following you, you can also check on who's been liking your posts on Instagram but this way you can do it from your desktop. Of course no matter what kind of phone you have, in my case I have an Android, you can just go over to Google Play Store and search through tons of apps for Instagram.
A couple of my favorites are the No Crop which will allow you to make your images square before you post them, also you can and frames to pretty up some of your photos. And then there's the REPOST which is sort of like a RETWEET that you would do on Twitter, only you would we repost something that you've liked.
There's just so many apps and you're going to find that most of them are free. You know go over have some fun with Instagram. You want to try to build your following now, like I said the early adopters – you're gonna get the leg up on everybody else. Don't miss the boat when it comes to Instagram!
So that's your introduction to Instagram be sure to follow me you can always find me @Ileane and be sure to subscribe to this channel so you can keep up with all the happenings in Social Media, Blogging, YouTube, Podcasting…
Just subscribe! OK?
Talk to you guys soon.
BONUS INSTAGRAM TIP: Those short 15 second Instagram videos are a great way to promote your YouTube Videos. Check out this video teaser I shared with my followers on Instagram. Doesn't it make you want to watch the video?  I got more likes and comments on the teaser video than I did on the image post about the Pablo by Buffer video.
The original version of this article first appeared on Basic Blog Tips.  Sign up for more social media traffic tips and tutorials from Ms. Ileane here.
The following two tabs change content below.
Latest posts by Ileane Smith (see all)